Product Description
Saalt Menstrual Cups – Period care simplified!
The Saalt cup is a reusable and natural method for managing your period. The Saalt cup collects fluid rather than absorbing it, which helps prevent vaginal dryness and discomfort. This is a softer rimmed and average sized cup which would be suitable for most women.
Saalt Cup Features:
Reusable for up to 10 years
Reliable, leak free protection for up to 8 hours, including overnight. Can hold 3-4 tampons worth of menstrual fluid.
The soft and flexible design makes it a comfortable cup, that moulds to your unique shape
Matte finish and grip rings at base of cup for easier removal
Naturally non toxic and odour free
Made from 100% medical grade silicone and does not contain BPA or Latex
Stem can be trimmed to desired length
Helps maintain natural vaginal pH levels
Hypoallergenic and chemical free
Cup storage bag included
Made in the USA
Vegan
FDA registered and compliant
The Saalt Cup is also available in a Duo Pack which includes one of each size Saalt.
Saalt Cup Sizing:
Most women can successfully use both sizes of Saalt Cup, the small for lighter days and the regular for heavier days, but one size may be more comfortable and more suitable depending on your particular situation. For those under the age of 18, the Teen size Saalt may be more suitable.
While your level of flow is an important indicator for the Saalt cup, please also consider:
Petite physique: You may consider starting off with a Saalt Small
Tampon size: If you have only ever used mini tampons, you may wish to consider the teen size Saalt
Virginity: Because muscles/ hymen are tighter before sexual intercourse, if you are not sexually active, we recommend the Saalt Small
Vaginal insertion: If you haven't comfortably inserted anything in your vagina before, we recommend the size small
Vaginal Birth: If you've given birth vaginally, you may prefer the Saalt Regular
Physical Activity: Active users with strong pelvic floor muscles may prefer the Saalt Small.
Please check the position of your cervix to ensure you select the correct Saalt Cup size. Because your cervix can change position during the month, it is best to check it at the beginning of your period.
Differences between the Regular Saalt Cup and the Soft Saalt Cup: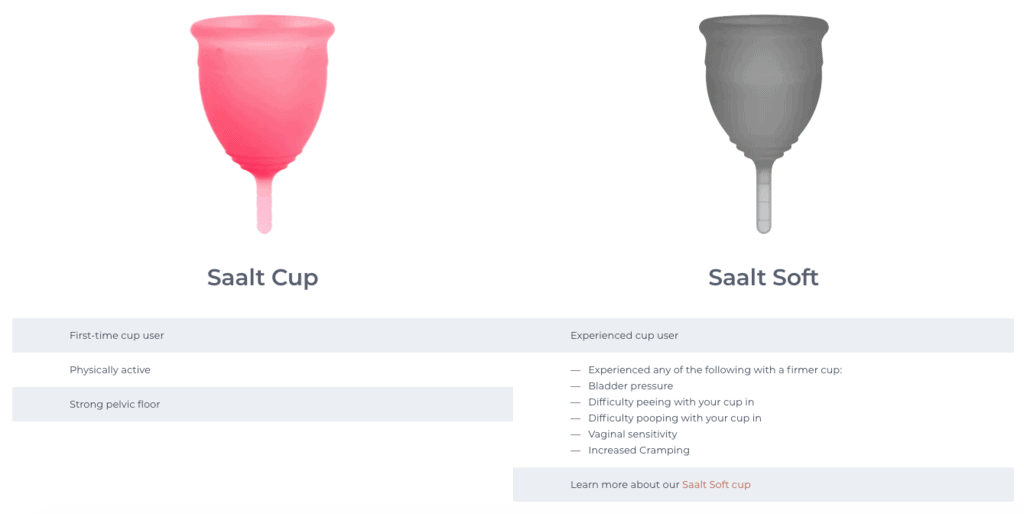 IMPORTANT: Menstrual Cups have been associated with Toxic Shock Syndrome (TSS). TSS is a rare but serious disease that may cause death. Always read and keep the information contained with your cup. Use only as directed. Discontinue use of this product and consult a GP if you experience any adverse side effects.