Product Description
Lily Cup – Ultra Smooth for Ultra Comfort!
The innovative angled design of the Lily Cup means this menstrual cup will complement your anatomy while also being one of the few cups that can be rolled as thin as a tampon. The Lily cup's no-spill rim also allows for less-mess removal and emptying of the cup during your cycle, and the smoothness of the medical grade silicone makes it super comfortable for all day wear. This is a longer cup and is therefore best suited to women with a higher cervix position.
Lily Cup Features:
100% Ultra-smooth Medical Grade Silicone
Non-spill rim
Easy removal stem
Good for high cervix position
Reusable and sustainable
Can be worn for up to 8 hours or overnight
Collects rather than absorbs your flow
Leak-free and odour-free period protection
Includes a storage pouch for the safe keeping of your cup between cycles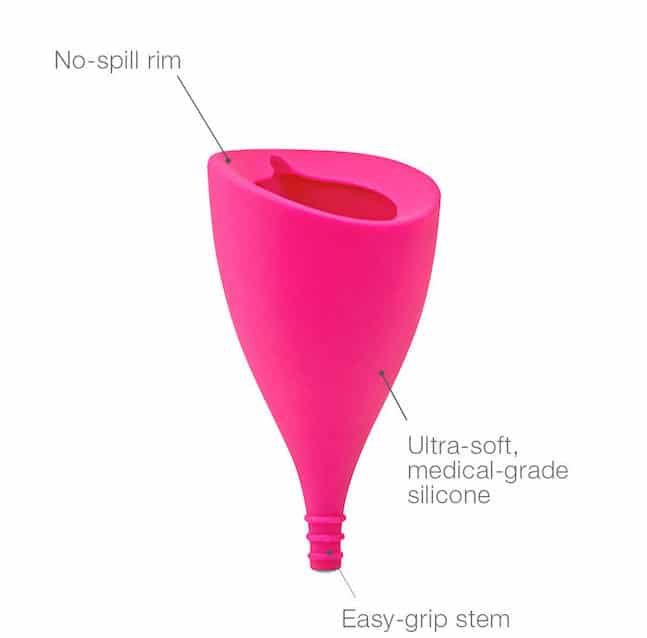 Lily Cup Sizing:
SIZE A – Light Pink
For those who have not given birth or have only given birth via cesarean. A great size if you have a light to moderate flow.
Total Capacity: 28ml
Total Length: 78mm
Rim Diameter: 40mm
SIZE B – Dark Pink
For those who have given birth vaginally or who have a weaker pelvic floor. A great size if you have a heavy flow.
Total Capacity: 32ml
Total Length: 78mm
Rim Diameter: 43.5mm
How to Use:

Cleaning your Lily Cup:
As with all menstrual cups, you should rinse your cup with clean water each time you empty and re-insert it. Washing with a specially formulated cup wash or oil and scent free soap is particularly good at some point during each day of your cycle. Once your period is finished, sterilise your cup and allow it to completely air dry before storing.
Learn how to clean and care for your menstrual cup
IMPORTANT: Menstrual Cups have been associated with Toxic Shock Syndrome (TSS). TSS is a rare but serious disease that may cause death. Always read and keep the information contained with your cup. Use only as directed. Discontinue use of this product and consult a GP if you experience any adverse side effects.